Do you already know the WALL MARBLE RAILWAY?
The wall ball track consists of beech wood elements of different sizes with a groove milled into them. Magnets are embedded in the beech wood. In this way, the elements stick to any magnetic surface.
By skilfully arranging the balls roll or jump from element to element. Since you can position the elements freely, new ball tracks are created again and again. And if you are tired of a marble run, you can let your imagination run wild and create animals, robots, letters, numbers or other shapes with the elements. Or you can combine the elements into frames and quickly have a wall shelf for your tonies, legos, pictures, etc.

A smooth, vertical, ferrous surface is best suited as a primer. This can be a memo board, a heater or the really very decorative original wall marble run board (can be ordered from summer 2023).

On the following pages you will find everything about this stylish and multifunctional educational toy for daycare, waiting room or children's room.
Our WALL MARBLE RAIL is multifunctional. How to use the Wall Marble Run: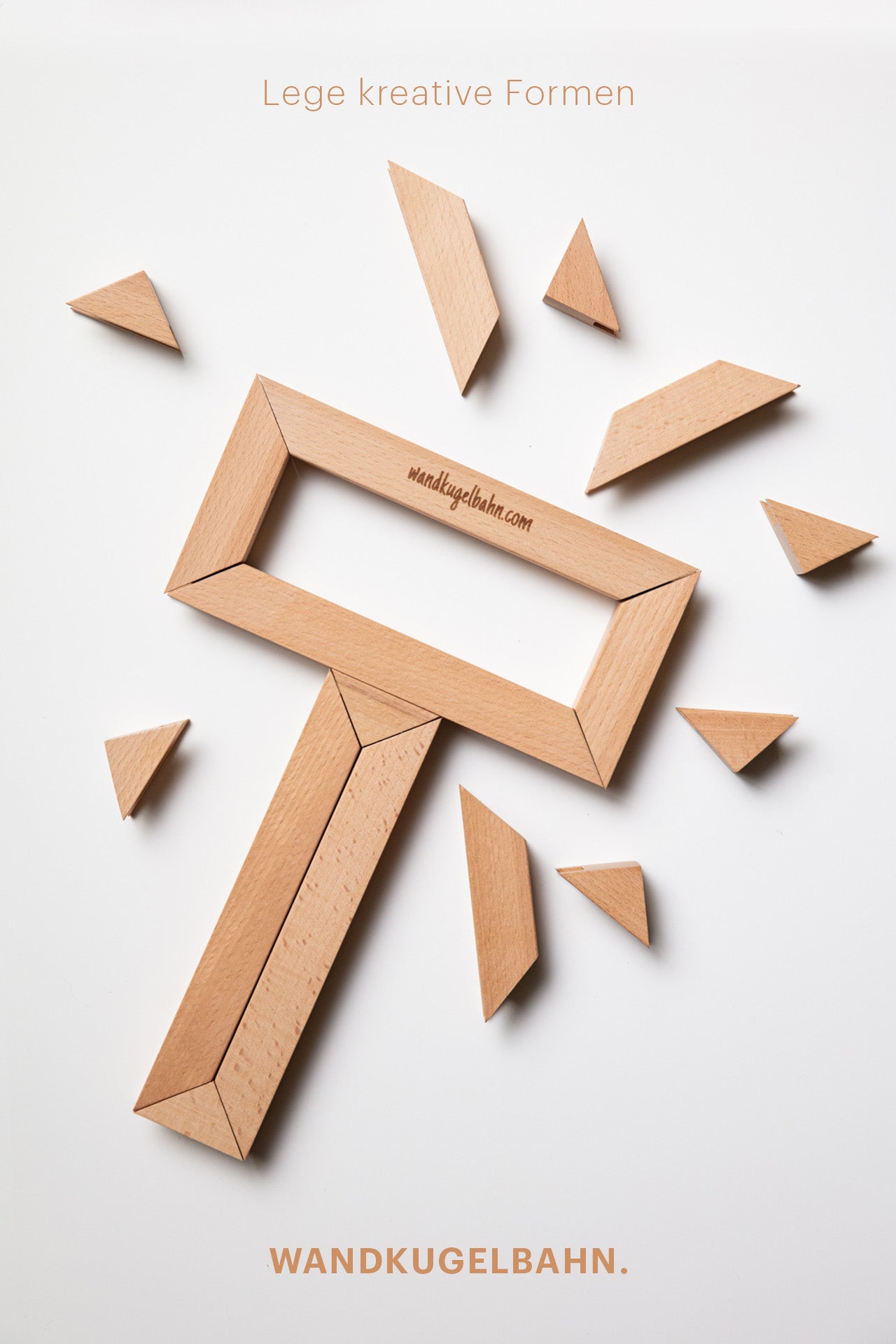 WHAT MAKES THE MARBLE RAIL DISTINCT

The wall ball track ...

is space-saving because you only play on the wall.
is good-natured, since the railway cannot collapse due to its magnetic elements.
trains motor skills, foresighted thinking and promotes creativity.
is really very decorative.
is multifunctional (see possible uses).
is played standing up and the console thumbs have a rest.
uses durable materials (saliva-proof beech wood | permanent magnets).
is produced in Germany.

HERE THE BALL RAILWAY COMES INTO USE

The wall ball track is suitable ...

for day-care centers , elementary schools and in all-day care. It makes waiting rooms in which children spend their time more lively: at the doctor's, in the clinic or in public spaces. The wall ball track is also used by therapists (occupational therapy, speech therapy, child psychologists, ...) and in old people's homes.

As a birthday present or Christmas present, the wall marble run also finds its way into many children's rooms :-)

HOW TO USE THE RAILWAY

The wall marble run can be used in different ways: alone, against each other, with each other. You can build fast, slow, creative, colorful and crazy tracks.

Or you use them as:


marble run
memo board
experimental area
picture frame wall
Type case for your Tonies
educational game

... get inspired on this page.
Fairtrade pouch
We want to avoid packaging waste as much as possible. You get our marble run in a high-quality fair trade bag, which you can also use as a gym bag. Once the WAND MARBLE RAILWAY hangs, it usually no longer needs packaging 😉
Where can I buy the wall ball track?
At the moment we only sell the wall marble run via our online shop.
Are you still looking for a magnetic surface?
Until summer we offer you your own wall space at this point. Until then, you will find the following selection of magnetic walls:
Awarded the golden rocking horse
We presented the wall marble run for the first time at the super sweet play market in Remscheid 2011.
Soon after, we were on the nominee list of familie&co.
A few weeks later we brought home the trophy as the category winner in the category "For Artists and Master Builders" and then also as the overall winner "The Golden Rocking Horse 2011 (Overall Winner & Category Winner)". We are really very proud and were sooo happy 😊
The great team of the family&co. then gave us a very friendly welcome at the company headquarters. Thank you very much 💛 That remains a very good memory to this day 🤗

Click here for the article in familie&co .
You ask, we answer
Is the magnetic wall included?

No. They are not included in the set.
The cheapest option is galvanized tinplate walls. You can get them from the nice metal worker around the corner. If you want something more professional, some furniture stores have magnetic walls. The company RECADA has a particularly beautiful version. These super-thin walls are available here, for example: https://www.modulor.de/rocada-whiteboard-skin-pro-magnetisch.html

On the website you will find some suppliers of magnetic walls. We would also be happy to advise you on the subject by telephone.
Can you laser engrave the beech wood parts (e.g. with my child's name, a company logo or the name of our day care center)?

Would you like to make your marble run unique and special people happy? We decorate one or more elements with a personal dedication or your company logo on request (from €19).

Are there other parts?

In summer 2023 we will publish our pins. For Christmas 2023 there might be a new part. Let yourself be surprised.

AND: You can really do a lot with the 4 basic elements. You can find pictures of this on this website.
How big should the playing area be?

With a basic set you can play on an approx. 80 x 80 cm large, magnetic wall. More parts = more possibilities.
Day-care centers often order 2-4 sets and play on 2 or 3 walls. Tip: Place the walls next to each other with a distance of 5 cm, then the kids can first play "alone" on "their" wall and then find out that the walls can be connected with the long parts to form a larger track. I think that's a nice metaphor and it's fun to play together.

You can find information about different providers of magnetic walls on this website.
For what age is the WALL MARBLE RAIL suitable?

Purely legal from 3 years, as the WAND MARBLE RAIL contains parts that can be swallowed (marbles). We recommend this marble run for the wall for children from 4-5 years, my six-year-old son does really cool things with it (more complex marble runs and creative shapes and figures). At the fair in Remscheid, a mathematics professor spent almost an hour with this marble run ;-)
Where is the WALL MARBLE RAIL produced?

The ball track is made in Germany.
Can I attach this marble run to my fridge or heater?

As long as the surface is completely flat, yes? BUT BE CAREFUL: Sometimes the smallest parts collect between the magnetic surface and the wall ball track element. This creates streaks and scratches that you definitely don't want on your expensive fridge or stylish heater. We also accept no liability for this.